Timberline® HDZ™
The New Advanced Timberline
®
HDZ Shingles offer just the right combination of beauty, performance, and reliability — and are the best value in roofing today.
Timberline® HDZ™ The Difference
New Proprietary LayerLock technology – Mechanically fastens the common bond. HDZ has unmatched strength.

New StrikeZone Nailing Area – is the industries widest nailing zone. Upto 30% faster application & 99.9% Nailing accuracy rate.

Compatible with Timberline HD Shingles – Same stylish appearance, with colour components sourced form the same supply lines.

All the Technology We Rely On – StainGuard, Dura Grip, Fibertech, Color Lock, UV Blocker, UL Fire rating.

New Look Packaging – Looks better before its installed.
Timberline® HDZ™ Intorduction
Timberline® Basic Install
Timberline® HDZ™ For New Zealand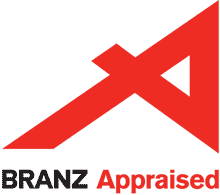 BRANZ Appraised for New Zealand's harshest environments.
While GAF Asphalt shingles have UL and ASTM international certification, they have also been BRANZ Appraised for New Zealand specifically.  BRANZ are the leading major Appraisal company in New Zealand and are highly respected by industry Professionals and Territorial Authorities alike.  GAF Asphalt shingles, inspiring not only natural beauty,   but also industry rated confidence second to none.
Call for a quote today 0800 42 33 55