Knowing the difference
Government Departments, Architects and Trade Professionals alike trust BRANZ for superior advice and technical expertise, when specifying GAF superior products you can trust. GAF also stands for true peace of mind unequalled in the roofing industry.
Why? Because New Zealand can produce some of the worlds harshest climatic conditions, including coastal salt laden spray zones, with fierce winds gusting in excess of 250 kmh.
As a business our experience with GAF has been superb. With 20 years and more than 7,000 new roofs installed, not one of our customers has activated their International Warranty. Another reason why you can trust GAF to deliver true peace of mind and superior performance, when its needed most.
When deciding upon your new roof , think GAF asphalt shingle roofing.
Call for a quote today 0800 42 33 55
GAF Manufacturing Facilities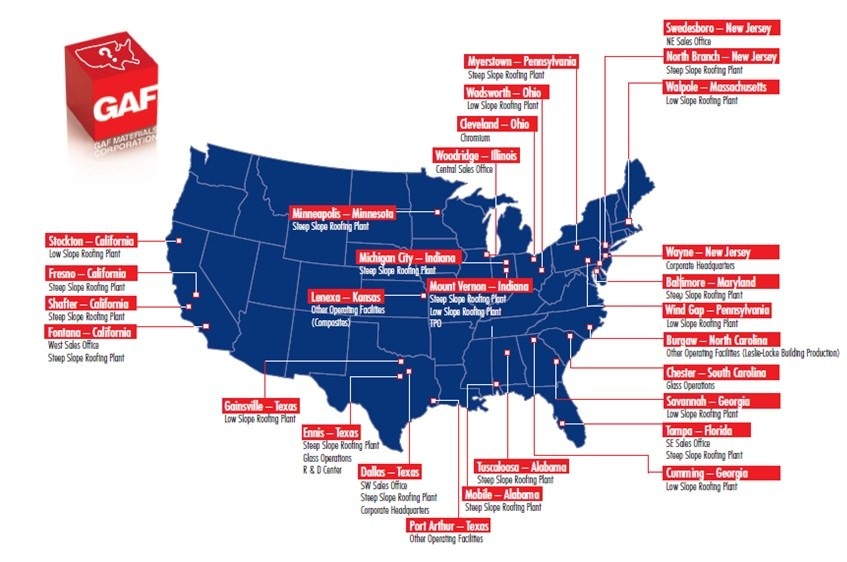 An introduction to GAF Asphalt shingle roofing
Advanced Quality
Available with 30 or 50 year warranties and with 125 years of experience. GAF Timberline shingles have grown to become the World's  No.1 selling shingle and supplied through North America's largest roofing manufacturer. GAF patented "High Definition" Timberline series, with enhanced graduated shadowing. Stunning Asphalt Shingles creating visual depth & shadows like no other roofing shingle and at a fraction of the cost of timber shingles.

BRANZ Appraised for New Zealand's harshest environments. 
While GAF Asphalt shingles have UL and ASTM international certification, they have also been BRANZ Appraised for New Zealand specifically.  BRANZ are the leading major Appraisal company in New Zealand and are highly respected by industry Professionals and Territorial Authorities alike.  GAF Asphalt shingles, inspiring not only natural beauty,   but also industry rated confidence second to none. 
Advanced Support
Specify GAF Asphalt shingles with absolute confidence and peace of mind.   And be comfortable in the knowledge that we not only represent the World's largest name in roofing,  but we are proudly supported by New Zealand's Premier Roofing Contractors, many with more than 15 years of industry knowledge and experience.   GAF – that familiar name, we have all grown to trust – since 1886
Expertise You Can Count On
Founded in 1886, GAF has grown to become North America's largest manufacturer of commercial and residential roofing. Professional installers have long preferred the rugged, dependable performance that only a GAF roof can offer, and have made it the #1-selling brand in North America.
GAF success in growing the company to nearly $3 billion in sales has been based on our unique philosophy of helping:
For property owners & architects:
Helping to assure your best and safest choice in roofing for supportive distributors and roofing contractors
Helping to build your business and avoid hassles
Just some of the reasons why we believe that GAF is your best and safest choice!
How can we assist you?
Send our committed staff a quick message or call customer services: 0800 42 33 55
To send a message, make sure to type your info below and hit send.

The quality and durability of our product, our BRANZ appraisal certification and the overall strength of our brand means that GAF has become a company that contractors, architects and homeowners trust.